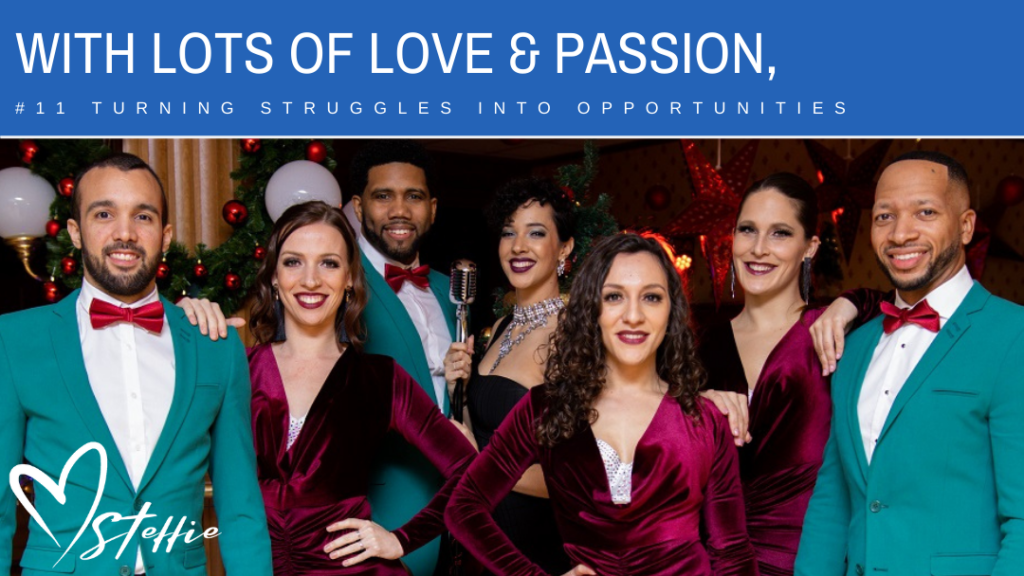 #11 Struggles into opportunities
One thing is for sure, 2020 was not what we expected it to be. I don't think anybody anticipated this. We definitely did not.
2020 was going to be the year filled of international travels, congresses, big steps in our business and so many plans to grow our dance school. Instead we spend more time at home than ever before and had to fight to keep the dance school alive. But even so, there are still so many opportunities that 2020 brought us that we probably otherwise would not have had (yet). 
Can you believe that it is already December? The perfect time to reflect on this year. In the coming blogs I will share with you how we experienced this year at Bachata Passion. Taking you with me through all its ups & downs.
How to respond
I still remember the first effect that Covid had on us. The BachataDay festival in Milan got canceled. This has been the constant factor in our calendars for 7 years! Every year we would go there with the team and have an amazing time, it really was something we look forward to. When we heard that this was not going to happen, we jumped to the occasion and booked a weekend of glamping in the Netherlands with our Pro-team. To at least spend a fun weekend together. Little did we know this was the start of many weekends of chilling & having fun with just us.
This does reflect the way we have responded to every step & change in this year full of changing measures & regulations. The way we see it, there was only 2 things we could do at the moment Covid hit.
Sit back, wait for it to pass and do nothing. Or: Stay positive and focus on solutions.
Of course we were not positive 100% of the time and we all have had our share of tears & frustration. But we did decide that we would not get better personally from sitting at home and doing nothing. Instead we decided to focus our energy on projects that we always wanted to do but never had the time for.
New projects
This year has led to many new projects in Bachata Passion. Because as we were working hard to keep our dance school alive, we made time to release new projects. These new projects were not just building our brand & business, but they provided us with a purpose every day and with new goals to focus on!
Have you noticed all the new projects we started this year? Curious to hear how many you already knew about!
1. Our own BP webshop, that we expanded with our own clothing line.
2. I started writing this blog and put myself out there a little more with videocasts & blogposts.
3. Online classes & courses on our own website.
4. Online live classes everyday from our BP Den Haag location.
5. BP Music. Oh yes… finally a big dream of Geno & Demi is coming out soon! Curious? Be the first to check it out here.
This week we will release the first BP song at Your Latin Radio during our Bachata Hour this Friday 04 Dec between 18:00 – 19:00.
Tune in to be the very first to hear it.
Let us know in the comments what you think of the new song!
Curious
I believe we can all learn so much from each other and sharing our own experiences is the first step. As always I am curious about you! Have you managed to turn some of your struggles into opportunities? Or are you finding it really hard to turn things around? Let me know in the comments!