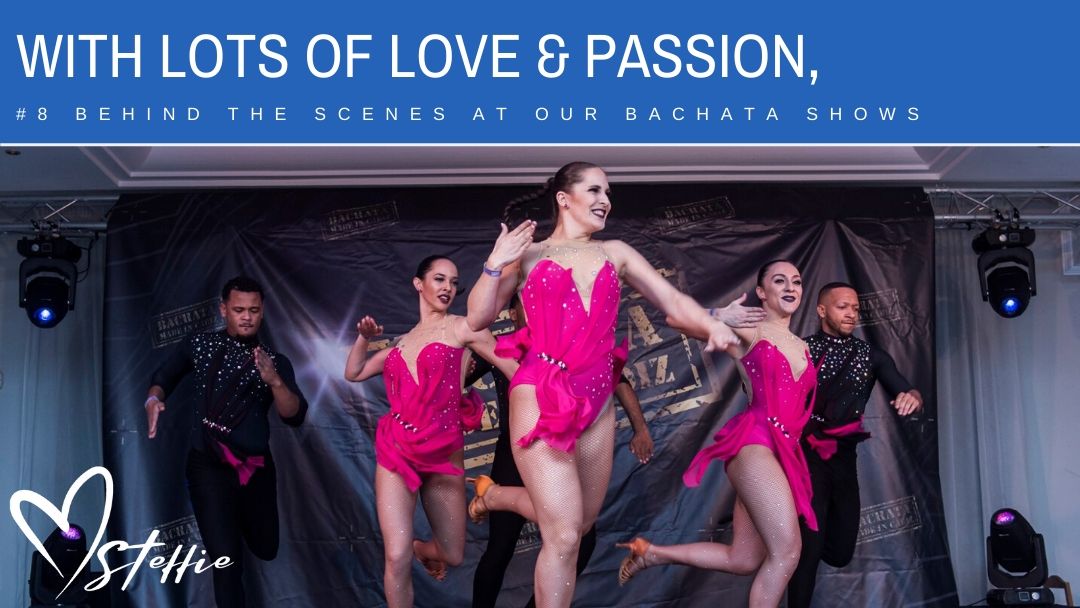 #8 behind the scenes at our Bachata shows
Last week I wrote about how we create a show, the whole process of choosing the music, creating the choreography and then lots of practice. Bachata Passion has over 7 different teams that all have their own shows. So, we spend a lot of our hours on creating, training, team practices, and getting ready for performing. All leading up to that one moment, SHOWTIME. That rollercoaster of emotions that we always see in our students, and even still feel ourselves in our Pro-team. The energy, the nerves, the excitement, the doubt but especially the adrenaline rush.
I love performing just as much as I love the process of creating & practicing the show. Over the years I have learned to really enjoy my time on stage. Where it used to just pass me by, I can now really enjoy it and be present. While I love the process, and now really enjoy dancing the shows, I still have a hard time watching the videos of our shows. That is one part I still must learn how to accept. I just really do not enjoy watching my own videos, only the real bloopers!
Performing versus coaching
As I said we train over 7 different teams within Bachata Passion. And I get so nervous when I watch our teams perform, because I know how hard they worked for it. I just want the show to go well, I hope they enjoy it, and I hope they leave the stage with energy and no regrets. I get way more nervous when they perform, than me having to perform myself. Because now it is out of my hands, and all I can do is sit back and enjoy the show. And I do! I love watching our student teams perform. Especially because I know how difficult certain parts are, or what their weak spots are. And to see them overcome all those challenges and put on a show as a team, makes me smile even writing this.
Show versus Practice
Even though you practiced the show countless times with the team as soon as it is time to get ready for showtime there is always the nerves. Wondering if everything will go as practiced. Showtime is always a snapshot; you hope it will reflect how hard you worked the last months on all of it. But unfortunately, that is not always the case. Nerves kicking in, a small black out where you forget the steps, accidents, slippery floors, and so many more things can lead to you not performing the way you wished. So how do we prepare for showtime? What do we do to give it our best every time?
For me, the key lies in repetition. Practice so much that it is in my muscle memory. That you can dream the show, you are able to dance it in your head. Especially if I know the place where we are going to perform, I will visualize us dancing there. From walking on to the applause at the end. This all gives me security; I have done this before.
And I find comfort in my team, we do this together. The feeling of team spirit, the fun we have on stage together, the energy we give each other to continue when something goes wrong, that is what I love. It is not just about me, there is so much more at play. This is also why I love performing with our teams more than just as 1 couple.
Showtime
We usually do not practice to much on the day itself, we prefer to keep all our energy for the night & the performance. Having to practice a lot still on the day itself would give me more stress than help perform better. We mostly only rehearse, to know the location, the floor, the planning of the event, but no full practice on the day of the show. We trust our practice preparation. We take the time to relax, get our hair & make-up ready and get together as a team. Just before the show we always do a circle with team preparation, so that we are all focussed on the show. And then it is time to enjoy, show what we worked for, and spread our passion!
Over the years we have performed countless times, and this has brought us to so many different events, cities and even countries. We are so grateful for all these experiences & memories. What would you like to know about our Bachata Passion shows, experiences, memories? Let me know and I answer it in the next blog!