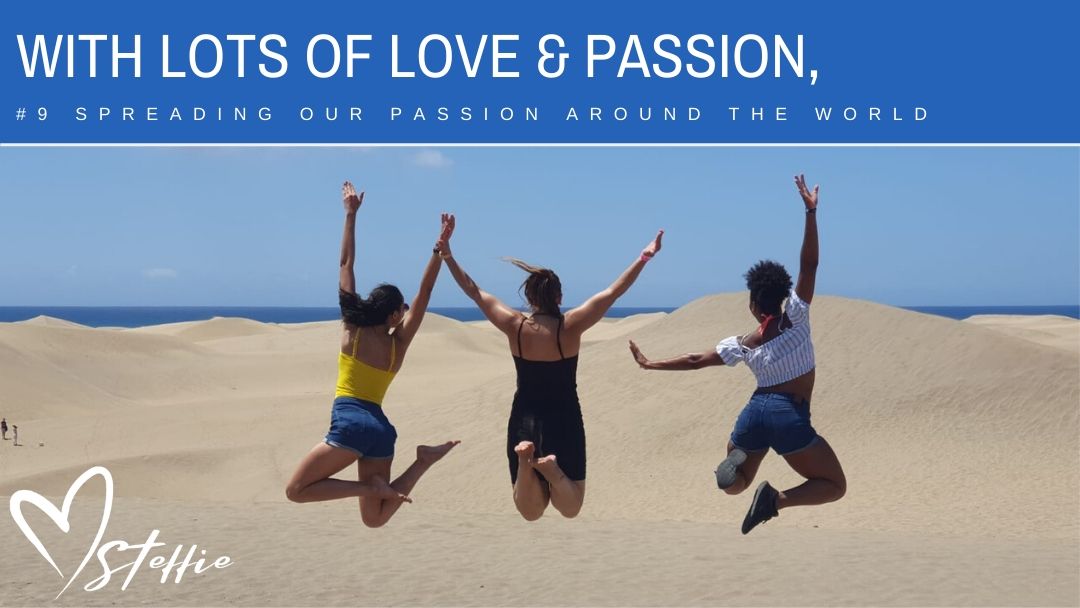 #9 spreading our passion around the world
Our teaching and performing has brought us to many places. We are so grateful for all the special experiences it has given us, that we would probably never have had if it were not for Bachata Passion. From travelling to Congo in Africa and Ukraine just to teach & perform. To amazing dance holidays in Gran Canaria and the Caribbean for a full week. And from performing on a huge stage in Milan and Berlin, to enjoying VIP treatment at big festivals in the Netherlands.
Never did I think dance would bring me all of this. And even though the last years we focused mostly on the Netherlands and building our dance schools here. We managed to travel quite a lot in between. This year was supposed to be the year we would travel even more, with many new festivals and destinations. Instead there are many nights at home, with a lot of time to look back and enjoy all the memories again. In this blog I will take you through some of the experiences.
Getting stuck in Congo
Probably the craziest experience we had with Bachata Passion was travelling to the Democratic Republic of Congo. Along with other artists from the Netherlands, Italy, and France we were invited to go to Lubumbashi for 1 weekend. Crazy because this meant a 27-hour travel with flights and transfers to get there. Teach 1 workshop and perform 3 shows with our team. And then go back another 20-something hour travel. Although this already sounds crazy, it turned out to be even more. Because with the whole group of artists we all missed the flight back! STRESS.
Stuck in Congo, not the safest country to be in. Although we were well taken care of in the hotel, it did cause some stressful moments as we were not just able to catch the next flight. Day by day only a few of the artists were able to fly back. We ended up staying stuck in our hotel for almost a week, and because of the safety issues we could not leave the hotel by ourselves. So, it turned out to be a crazy week at the pool of our hotel. But such a special memory to look back on with a smile right now.
Sick in Manchester
Certainly not my best travel experience. But one that taught me that I am capable of so much more than I would have thought. We would travel to Manchester for 1 night only, fly there on Friday and come back to the Netherlands again on Saturday morning. This event was all about us, we were the only artists and we would teach 2 workshops and perform that evening.
But that evening I got so sick, really not feeling well. But no way that I would not give it my all to at least teach & perform. So, I took some time to take a nap and got myself ready. Walking to the venue I really felt so nauseous. But we made it work. Thinking back, it makes me laugh, because I think most people probably did not even notice me leaving during the workshop. I just gave Geno the mic and said: take it over. Hurried to the bathroom, threw everything out and got back to continue the workshops. Geno helped me so much that evening, so I could ease through the workshop. But then… showtime. No way was I not going to perform. So, I got ready backstage, put on my best show face and just did it. It was not our best performance. But to be honest as soon as we started, I just enjoyed the show on automatic pilot and got the last bit of energy out of my body to go FULL out. Our bodies really can do so much more than we think, when I feel like I have no more energy left I know for sure there is plenty more if I need it.
Last weekend before Covid-19
Of course, we did not know this would turn out to be the last travel for a while. Actually, we thought this would be the start of a year full of travelling. Only the 3rd trip with Demi in our Pro-team, this was the first time we travelled with the four of us: Geno, Shamir, Demi, and me. It was like we knew this would be the last trip for a while. Because this weekend had it all! I could not have thought of a better way to close our travels with for a while.
The fun already started in the car to Venlo to catch the train to Karlsruhe. Fun, laughter, deep conversations and just a lot of great moments travelling together. Sharing one big room with the four of us really made us unite as a team. Ok there was a little bit of stress as we would also perform with the 4 of us for the first time. But after a good rehearsal and an even better show, we could all really relax and enjoy the great festival. Fun moments with the other artists & participants. But also just really bonding as a team. Especially after closing the party on Saturday as last ones there, then getting to our room and all still full of adrenaline so we could not sleep. Curious what a weekend of our travelling to Festival looks like? Check our vlog of this weekend at Bachatation:
To be continued…
I can not wait till we can enjoy social dancing again. Till we can unite with people from all over the world through this lovely dance: BACHATA. For many more travels and memories to come. For us to revisit the amazing festivals we have attended so far, and for us to discover new destinations. Bachata is all over the world, and I love the fact that we can meet people that we might not be able to talk the same language with, but we can unite through dancing!
What experiences do you have with Bachata and travelling? Let me know as I would love to hear your stories! Where did you dance Bachata, who did you meet and which place would you still love to go to for dancing?